Travelling expands ones horizons and somehow changes the perspective of how you might have perceived certain things. It did for me on my first trip to Bangkok.
Vicariously, I have always known Bangkok to be gay-friendly but to see it first-hand is such an overwhelming experience. People in all walks of life respects you no matter what you're preference is and I can say that people are very friendly and polite. One particular instance was when I was in DJ Station, a disco bar for gay guys. I had danced with a gorgeous Thai guy and he danced with me even though my body was out of tune with the music. I was not a conversationalist as one would expect me to be but there is this half Filipino, half Thai who had told him that I liked him. Then, he give me a nod and continue on with the beats. I came to know later on from my friend that he already had a boyfriend and so is the reason why he was trying to restrain himself to get closer to me. Nevertheless, I found it astounding that he was not a snob for a good looking guy who is in a relationship.
While the crowd for DJ Station is mostly the youth, another dance club, G Bangkok (previously known as G.O.D.), has a mature audience, fit, athletic, muscular, and bear guys.
Another aspect the Thais are well known for are their food. Prior to the trip, I was skeptic about this. This might have been attributed to my previous experiences and word of mouth from my colleagues that even though Thai food is great, it is spicy – a quality that I am not a fond of due to my sensitivity of my stomach. (I have gastritis!) I did try Thai food in a buffet when I was in Austin, Texas and I felt that the food is just a so-so. In Singapore, I have went to several Thai restaurants and, yes, they are indeed spicy and that had masked how delicious they are. Now coming back to the authentic Thai cuisine in Bangkok, it is to my surprise that they are really delicious and contrary to all the Thai food I have ever tasted – they are not spicy! They had a variety of selection and even though there are some delicacies that is spicy, you can request for a non-spicy version and they will cook it especially for you!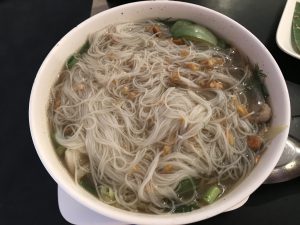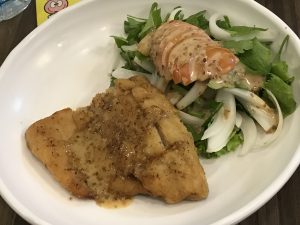 Even the street food are, shall I say, cooked with a class as of a restaurant.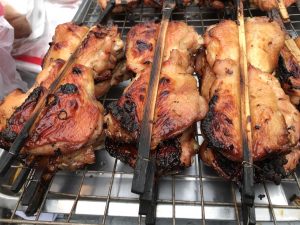 Their cold desserts are quite mouth-watering it would leave your taste buds in a state of foodgasm.
Of course, the trip wouldn't be complete without visiting their temples, where we had ride via their water taxis to get there.
Unlike any other temples I've visited, the temples in Bangkok had a lot of beautiful ornaments that are hand crafted by the workers, which made each of these temples pretty unique. Below is an amateur picture of Wat Arun.
And another from Wat Pho.
Wat Pho is where the Reclining Buddha is also situated.
If you're an avid fan of The Amazing Race, this is the location where teams for the Fast Forward had competed in the coin bowl challenge in Season 1. I went for this activity as well to get a feel of the challenge itself.
Some other things that you can do in Bangkok are shopping, massage, watch cabaret, and anything related to beauty and wellness – prices of which are quite reasonable.
Overall, my trip to Bangkok has been quite pleasant and I definitely recommend Bangkok as your next travel destination. Pretty sure, I will be back again to explore more of what Bangkok has to offer.